It has always been my priority to keep my little clients and their families safe. I have made a few policy changes to keep us all healthy while capturing your special family moments and milestones. Here you can read about changes to portrait sessions and studio policy during the Covid-19 pandemic.
Scheduling
Firstly, I have removed all penalties for cancellations and reschedules. If you or your child are sick- even a little sniffle, sore throat, headache, suspected cold etc. I ask that you reschedule. If you have been in contact with a person confirmed or suspected of having Covid-19, do not attend your scheduled session. I ask that as a precaution, you check that your child's temperature is normal before leave to attend your photoshoot.
There will be a minimum of 24 hours between clients in the studio to allow for deep cleaning and air purification.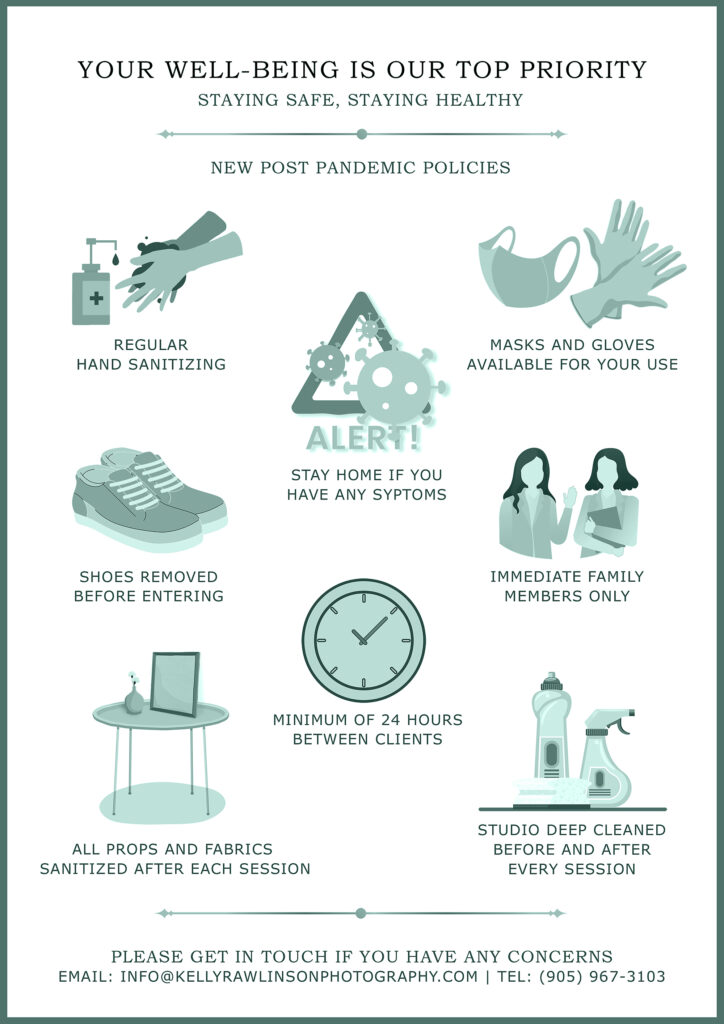 Cleaning
Cleanliness has always been an important part of my workflow, including handwashing, having sanitizer available, deep cleaning and washing of all props before/after use. I will make sure that everyone coming in to the studio is screened, and aware of the location of the handwashing station, and sanitizers. Rest assured that all props your child comes into contact with have been washed prior to use. Items that cannot be washed in the machine or disinfected, will be rotated and not be used again within 2 weeks. No props from home will be permitted at this time.
Studio Procedure
I ask that you bring a mask to wear before and after being photographed. If you do not have one I can provide one for you. I will be wearing a mask for the entirety of our time together.
Only those being photographed will be permitted to stay in the studio during the session. Mom and baby for newborn sessions only. As always, I ask Dads to take older kids home once the family portion of a newborn session is complete. My studio is in my home, but all shooting areas and the client's washroom are separate from my family's living space and is for clients only.
For the time being, I have removed the coffee and snack station from the studio. Please bring your own drinks and snacks from home.
Testing & Screening
The provincial government has provided small and medium businesses with Rapid Antigen Covid-19 tests. Prior to all studio portrait sessions, I test myself, for everyone's peace of mind. This, in addition to screening myself and all clients for symptoms, will keep us safe!
It's important for everyone to do their part, to keep all of us all healthy. I will be following all public health recommendations- in my personal life, as well as in my photography business. For information about Covid-19 in our province, please visit: https://covid-19.ontario.ca
If you have any questions or concerns, please get in touch!