A lot of my clients lately have been commenting "Wow, it's been a long time since I've seen someone looking through a viewfinder!".  I've never stopped, and rarely use my camera phone or point and shoot, so it's still very normal to me and makes me giggle that people would find it unusual.   This post is to explain a bit about the camera gear you will see me using in a session.  Photography has become very automated with the use of iphones and instagram filters, that folks don't know much about professional gear and why/how it's used.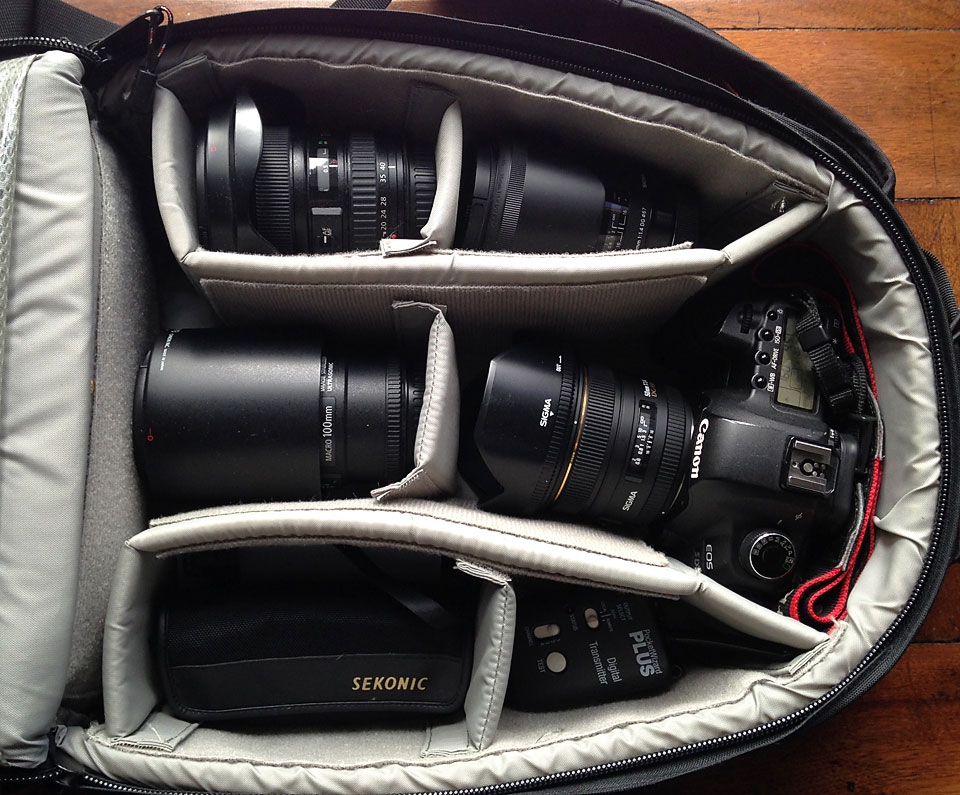 I'm a prime lens shooter- that means my lenses (except 1) are one focal length.  I find these lenses to be of superior quality- the sharpness is unmatched.  The downside is I can't zoom in or out….. so you'll notice me moving around (backing up and moving forward) more than a photographer who uses a zoom lens.
Camera: I use a professional level Canon DSLR, the 5D MarkII.   It's a few years old now, and I would love to upgrade to the MarkIII, but I can't justify that when the MarkII is still treating me so well!

Lenses:  For newborn sessions I usually use my Sigma 50mm f1.4 lens (not pictured above because it was used to take these pictures, haha!), but have been using the Sigma 35mm ART lens more often too.  I looooove my Sigma lenses, preferring them to the Canon.  I also use my Canon 100mm macro lens for babies.  This is the lens I use to get those close up, shallow depth of field images of feet, eyelashes, tiny lips and flaky skin.  These 3 are the ones you'll see me switching to during your photo session.   You won't see me using my Canon 17-40mm zoom- this is my only zoom, and it's used for landscapes, nature and real estate photography.
Other Gear:  I am a stickler for proper white balance, so every time there is a set change I photograph my gray card- this helps me keep colours perfectly correct.  I'll also use my Sekonic light meter from time to time- especially for difficult, artistic lighting situations.  This tells me the proper exposure for the lighting conditions.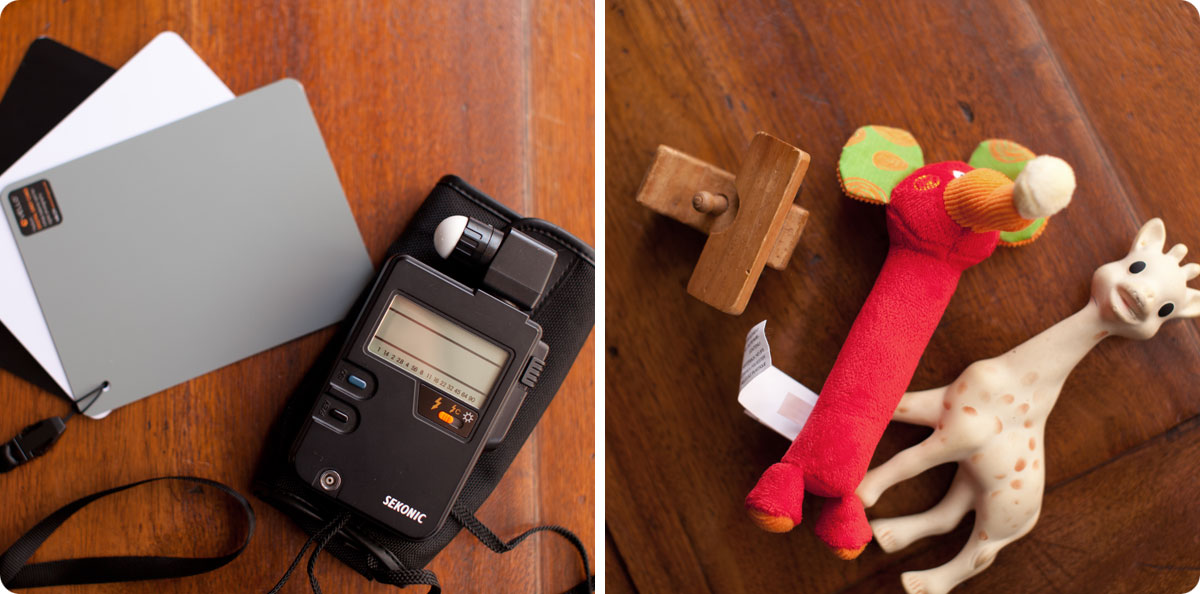 Fun Stuff:  I always have a couple of squeaky toys to get your child's attentions (for older babies and kids).  I also have some photogenic toys – if they need something to hold onto in the photos they can use these.  They won't be too noticeable in the photos but they'll keep your child happy.
That's it! (I won't mention the 8 pens, 5 chap sticks or 3 packages of gum that I found deep in the pockets of my camera bag.)  I have more gear and gadgets in the studio that have to do with lighting systems and backdrops and props.  But I will save that for later.  I love to talk about what I know about the technical side of photography, so if you're watching me and wondering- don't hesitate to ask!